5 must-board sightseeing boats on Japan's remote islands
To this day, boats are a major means of transportation on Japan's remote islands. Many of these isles are steeped in maritime history, therefore it should come as no surprise to learn that sightseeing boats have become top tourist attractions. Let us introduce some of the most unmissable tours and cruises, where you'll be able to experience breathtaking views inaccessible by land, or unique local customs and traditions.
Underwater sightseeing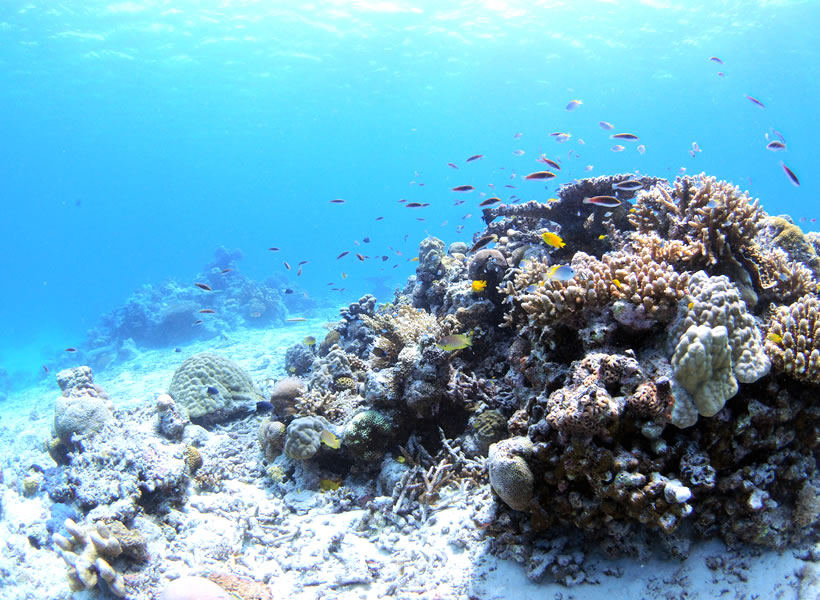 There is plenty of excitement to be had out at sea near Japan's remote islands. You'll encounter coral reefs, tropical fish, and other exotic sea creatures, along with plenty of opportunities for diving and snorkeling. If you still want to sample life under the waves but don't want to get wet, glass-bottomed sightseeing boat tours are your best bet. No special equipment or preparation is required here, just hop on and enjoy the underwater scenery. Definitely fun for all the family.
Glass-bottomed boat ride, Kabira Marine Service
At Kabira Marine Service on Ishigakijima, Okinawa Prefecture, you can relish the fascinating underwater world surrounding the island by jumping on board one of their glass-bottomed tour boats. On average, the temperature of the water around the island is 24 °C, meaning in this seascape you'll find colorful tropical fish swimming all throughout the year. These boat tours operate all year round.
Semi-submersible undersea boat tour, Amanbow
The volcanic Oki Islands sit 50 km north of Shimane Prefecture. On Nakanoshima you can board the very first semi-submersible sightseeing boat to operate in the Sea of Japan. This craft enables you to view the lush seaweed and schools of fish that call this part of the ocean home. Tours operate from April to October, with night cruises to see the bioluminescent sea sparkles dubbed the 'Milky Way of the Sea' also popular.
Mangrove cruises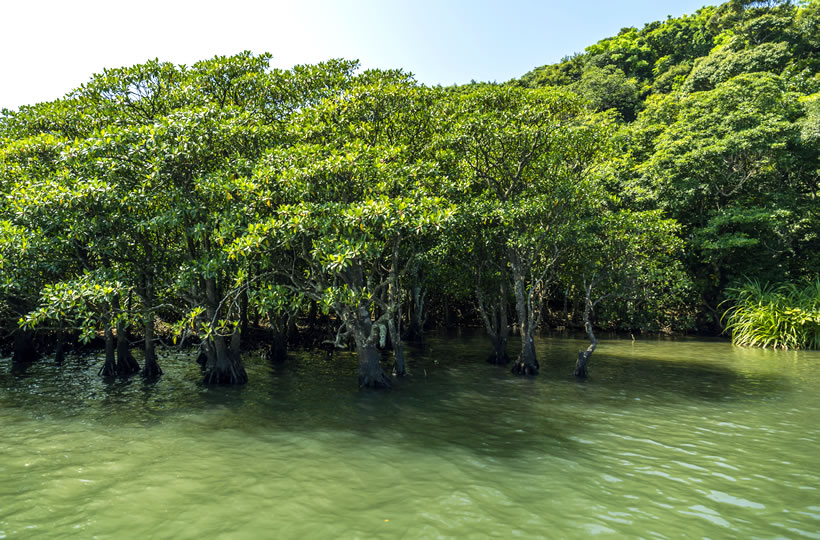 Mangroves thrive in Japan's tropical and subtropical regions, where freshwater and seawater mixes together. These forests serve as the ideal habitat for the numerous birds, mammals, fish, and crabs that live in amongst the mangroves. Various mangrove forest boat tours can be taken throughout Okinawa and Kagoshima prefectures.
Nakamagawa River mangrove cruise
Iriotejima is one of the most famous remote islands in Okinawa. Accessed by sea from Ishigakijima, it has one of the largest mangrove forests in Japan, which has been recognized as a national natural monument. Boat tours around the mangrove forests can be enjoyed throughout the year, allowing you to see rare plants like the looking-glass mangrove, with its unusual plate-shaped roots.
Island cruises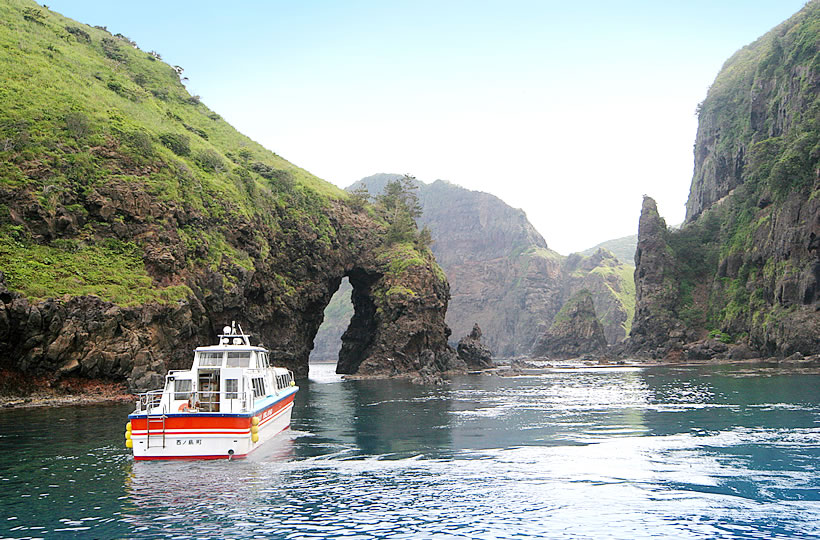 Many of Japan's remote islands were formed by volcanic activity and crustal deformation, which has led to many of these isles developing unique dynamic scenery not easily seen on the mainland. Each year many visitors flock to the islands to get a glimpse of these unusual views, and while you can take in the terrain on foot by walking around the islands, the most spectacular scenes are often best observed from the water on one of the frequently available sightseeing cruises.
Kuniga Coast sightseeing cruise, Oki Tourism Co. Ltd.
Almost all of Shimane Prefecture's Oki Islands have been designated as national parks as a result of their rich natural environments. Nishinoshima, one of the most popular islands for tourists, is home to a scenic 13 km long cliff face, known as the Kuniga Coast. Sightseeing cruises along the cliffs are a real hit with travelers, departing regularly from the island's port.
Sightseeing cruises with scenic photo opportunities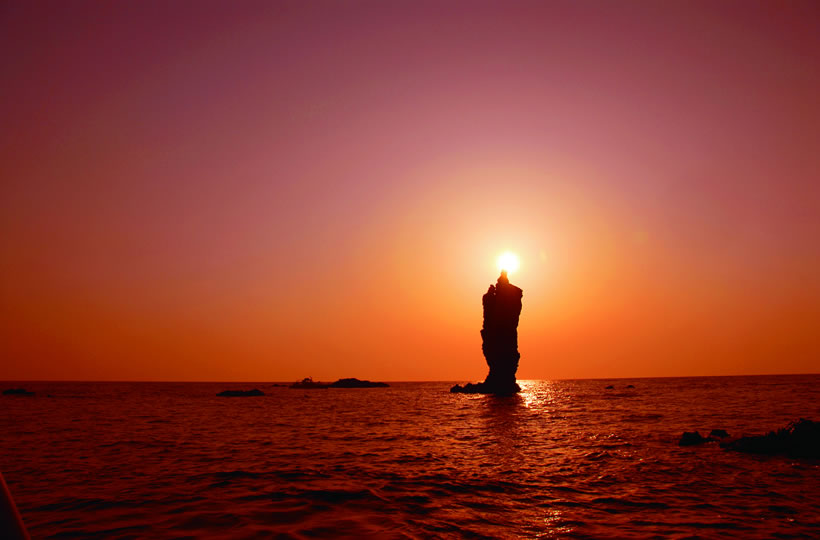 Japan contains many strangely shaped rocks that the Japanese call 'kigan.' Formed by the awesome power of nature, many of them are to be found on the mainland, however, there are some out at sea that can only be accessed by boat.
Candle Island pleasure boat cruise
The Oki Islands are overflowing with beautiful scenic spots, and are renowned for this throughout Japan. One of the most famous photo opportunities out here today is an oddly-shaped rock called Candle Island. As the name implies, it resembles a huge candle, about 20 meters tall. This romantic scenery can only be viewed by boat, the candle lighting up as the sun sets on the tip of the rock. The pleasure boat cruises operate from April to October with departure times varying from season to season based on sunset times.
Traditional boat journeys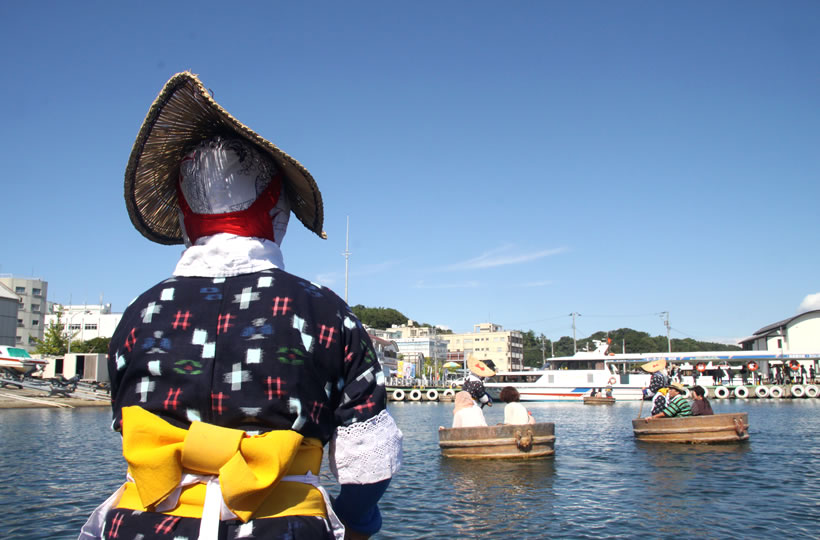 Japan's remote islands have different climates and ecosystems, which has led to the emergence of region specific lifestyles and cultures. Some islands have even seen the development of distinctive boats that can't be witnessed anywhere else in Japan. These vessels have long been connected to the lives of the locals and allow you to fully immerse yourself into each island's way of life.
Tarai-bune, Rikiya Kanko Kisen
Sado Island is in the western part of Niigata Prefecture. It is the largest island in the Sea of Japan, with a long history of gold mining, which prospered in the Edo period. Various traditional cultures still exist here, including traditional dances such as Sado Okesa and Nohgaku, and Tarai-bune, small tub-shaped boats that were once used for fishing. Nowadays the boats are mainly used as a tourist attraction. You'll be taken on a short ride around a small bay, with the tubs being delicately maneuvered by a traditional boatwoman.