Secluded World Heritage, you don't want to miss.
As of October 2019, Japan has 23 designated World Heritage Sites. While many of these are to be found across the main islands of Honshu, Hokkaido, Kyushu and Shikoku, you'll also find plenty of important sites dotted across Japan's more distant locations.
Yakushima, Kagoshima Prefecture(Natural Heritage)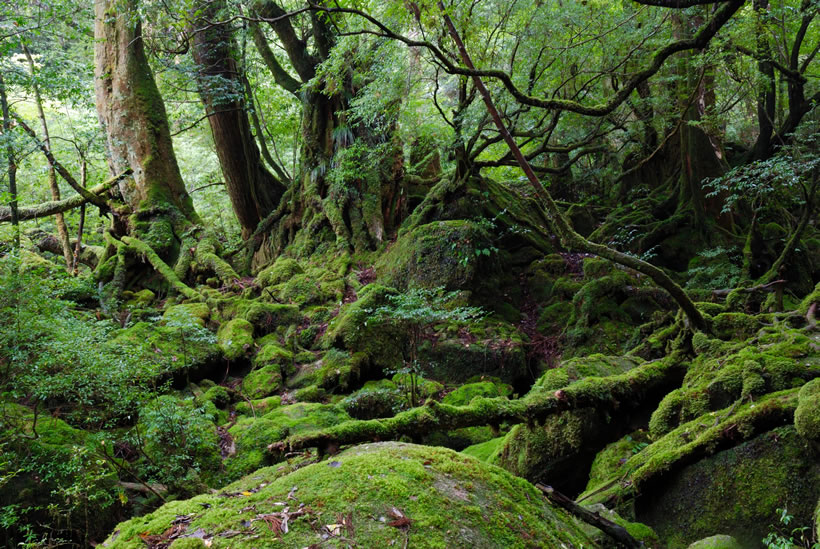 Yakushima is located in the East China Sea, 65 km south of Kyushu's Kagoshima Prefecture. It takes about 30 minutes to fly to the island from Kagoshima Airport or around two hours by boat from Kagoshima's main port.
The island is roughly 504 square kilometers in size and approximately 20 percent of it has been registered as a World Heritage Site thanks to its mysterious natural landscape. Yakushima's isolation has produced a diverse ecosystem composed of unique flora and fauna and much of its mountainous terrain is covered in mossy forests, dominated by the giant yakusugi cedar trees, some of which are over 1000 years old. Another distinctive feature is the sheer amount of rainfall that occurs here. Downpours are so frequent that it is often said, 'that every month has 35 days of rain!'
The huge cedar trees that grow on Yakushima were once worshiped as incarnations of Shinto gods and are one of its main tourist attractions. A number of the cedars are held in high esteem. The largest and most famous is the Jomon Sugi which is estimated to be over 2000 years old.
Hiking and diving opportunities allow you to experience Yakushima's treasured plants and animals up close, including many of its celebrated yakusugi trees or the sea turtles that inhabit the island's shallow coastal waters.
Ogasawara Islands, Tokyo(Natural Heritage)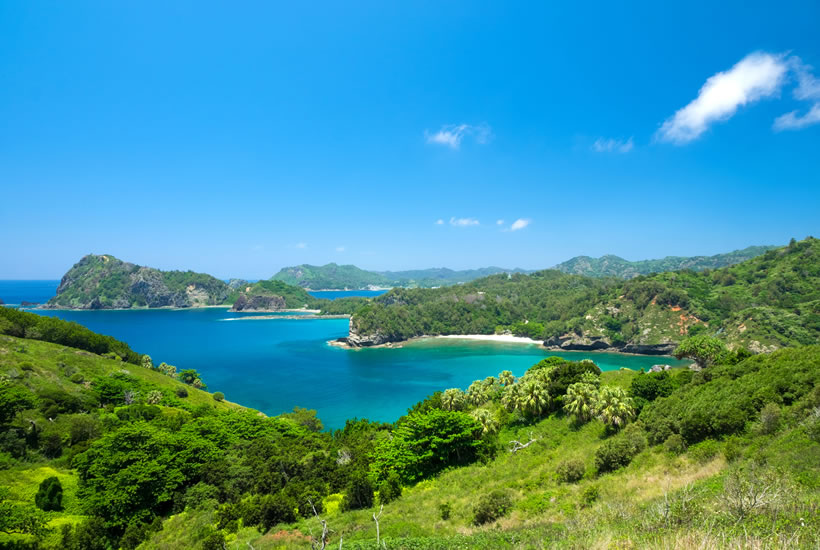 Consisting of around 30 islands, Ogasawara sits far out into the Pacific Ocean about 1000 km south of Tokyo. Since it has never been connected to the Japanese mainland, this small archipelago is home to a large number of exclusive indigenous species. It has been nicknamed the 'Oriental Galapagos', and in a bid to preserve this precious environment the Ogasawara Islands have been chosen as a UNESCO World Heritage Site.
Ogasawara has two main tourist hubs, Chichijima Island and Hahajima Island. With no airport on the islands the only way to reach them is by boat. Chichijima is approximately 25 and a half hours from Tokyo's Takeshiba Pier, while Hahajima is another two hours away from Chichijima.
A wide variety of plants grow across the isles such as hibiscus and bougainvillea flowers, and native palm, banana, and orange trees. Marine life is also plentiful and sea excursions will give you a chance to swim with dolphins, as well as go whale watching.
Goto Islands, Nagasaki Prefecture (Cultural Heritage)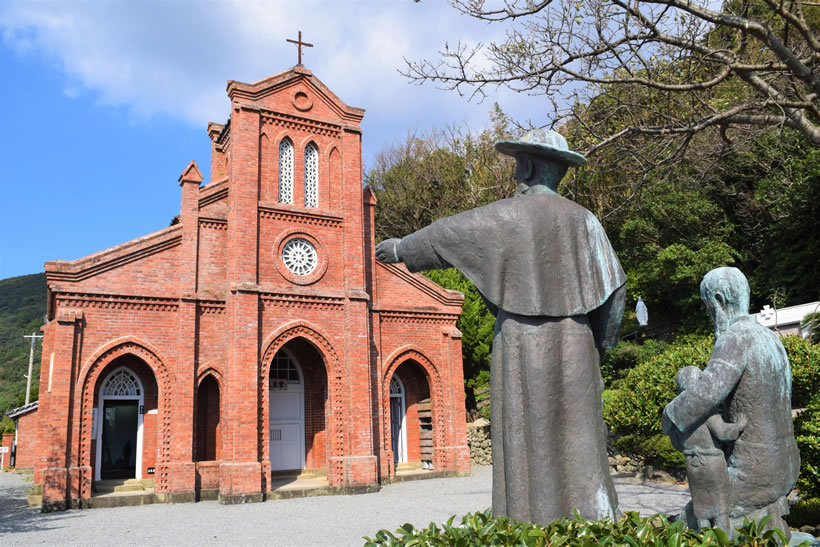 Christianity was banned in Japan during the Edo period, yet this didn't prevent many of Kyushu's Christians continuing to practice their faith in secret. In recognition of this clandestine way of life UNESCO has selected 12 historical Christian locales throughout Nagasaki and Kumamoto as World Heritage Sites, namely a once hidden Christian village and numerous churches that still stand today.
The majority of the spots are in and around the mainland of Nagasaki Prefecture as well as on the Goto Islands which lie off its west coast. Out of the 130 churches remaining in Nagasaki Prefecture around 50 of them are on the Goto Islands. Many of these churches have been built overlooking the sea and a trip to the islands delivers a glimpse into Japan's Christian past alongside stunning ocean views.
You can access the Goto Islands by air or by sea. It takes approximately 40 minutes from Fukuoka Airport and 30 minutes from Nagasaki Airport. Boats to the islands leave from Nagasaki and Hakata ports.
Hashima Island (Gunkanjima), Nagasaki Prefecture(Cultural Heritage)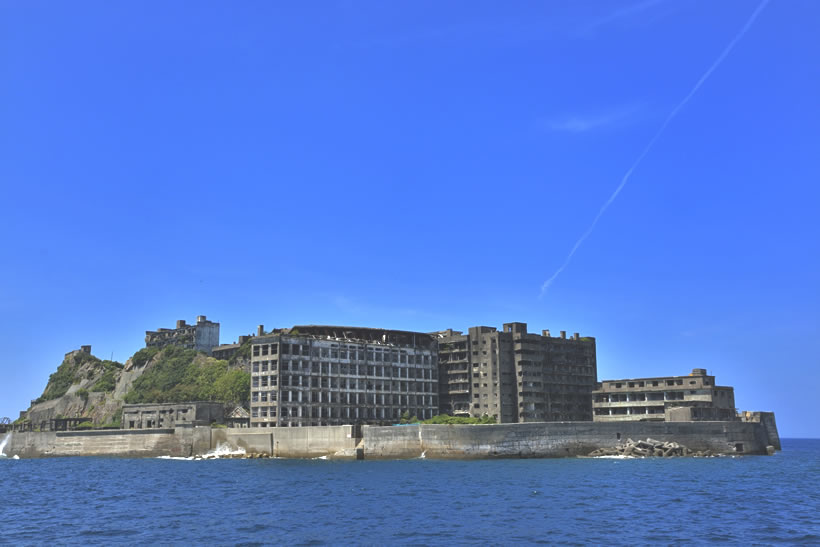 Hashima Island, commonly known as Gunkanjima, lies 19 km west of Nagasaki city. It has been listed by World Heritage under 'Sites of Japan's Meiji Industrial Revolution: Iron and Steel, Shipbuilding and Coal Mining', and contains 23 heritage assets.
The island played an important role in the industrialization of Japan due to its rich seams of high quality coal. Following the discovery of the coal and its subsequent extraction Gunkanjima developed into its own self-contained city. From the early 1900s, high-rise apartments, schools, and hospitals sprung up on the island to serve the coal miners and their families.
As oil replaced coal as Japan's main energy source the mining industry on Gunkanjima went into steady decline until the pit finally closed in 1974. Today the island is uninhabited, yet the ruins of the city and the mine still remain and can be visited by tourists through special guided tours from Nagasaki Port.
Sado Island, Niigata Prefecture(World Agricultural Heritage)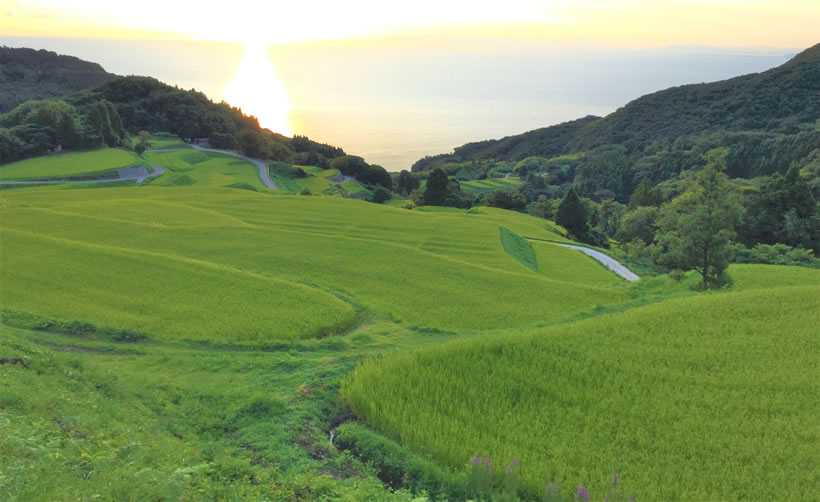 Sado Island is located in the northwestern part of Niigata Prefecture and is certified as one of Japan's World Agricultural Heritage Sites. It takes about one hour to reach the island by boat from Niigata Port and it is home to Japan's national bird, the crested ibis or 'Toki'.
This endangered species once thrived throughout East Asia, but its numbers have seen a sharp decline as a result of habitat destruction and the overfishing of its prey. Now only a few crested ibises remain in the wild, either on Sado Island or in inaccessible parts of China, with most of the birds now raised in shelters.
In the early Edo period Sado grew in prosperity after the discovery of gold. Many people moved to the isle looking to make their fortune and this increase in population led to the development of the island's terraced rice fields, which have been cut into the mountain slopes.
This farmland was cultivated by small-scale farmers and consequently a farmland management system devoid of pesticides was created, enabling the islanders to protect Sado's biodiversity. This notion continues to this day, as current crop production follows the concept of, 'agricultural production system, coexisting with the crested ibis', with the intention of further safeguarding Sado's wild Toki birds.
Oki Islands, Shimane Prefecture(UNESCO Global Geopark)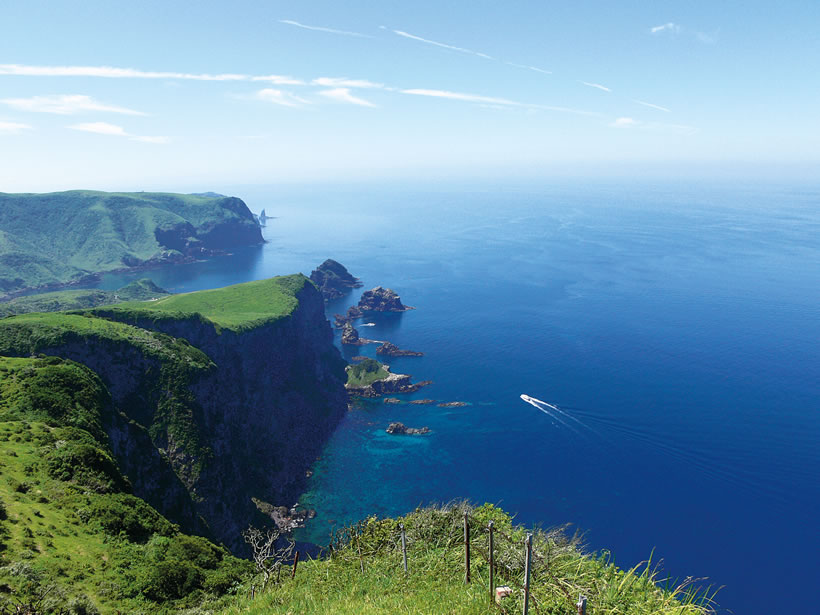 A geopark is defined as a place where people can learn about and enjoy the natural Earth and its surroundings. In Japan nine areas throughout Shimane Prefecture and the Oki Islands are currently recognized as UNESCO Global Geoparks.
Oki is located roughly 50 km north of the coast of Shimane and is made up of over 180 islands. Its 23,000 residents all live on the four biggest islands, the largest and most populated of which is Dogo.
The archipelago is developing a reputation as an area of scientific and academic importance owing to its biodiversity and important archaeological finds. A great deal of its plants are endemic to the islands due to a special climate that sees warm and cold currents intersect, while excavated stone tools and earthenware indicate that humans have been living in the area since the early Jomon period in prehistoric times.
Flights to the Oki Islands depart from Shimane's Izumo Airport or Osaka's Itami Airport and regular boat connections are available from ports in Shimane Prefecture.