5 scenic hot springs to enjoy on Japan's remote islands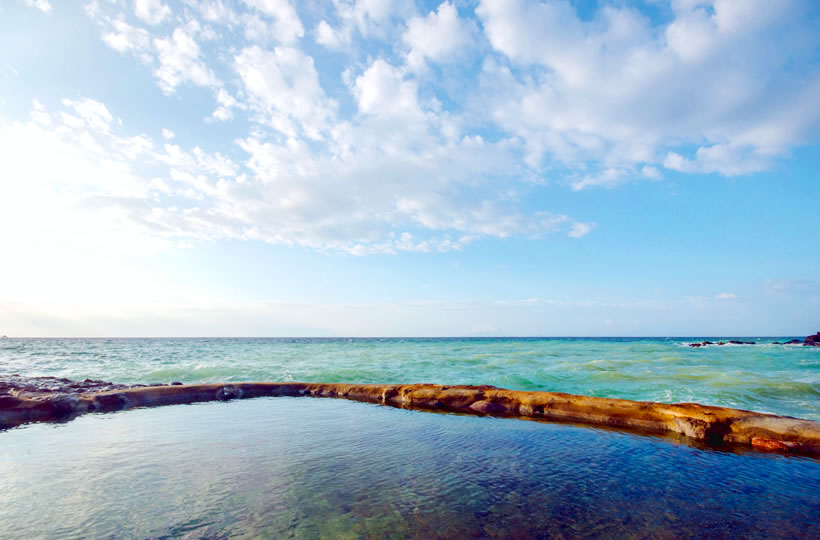 A trip to Japan is not complete without at least one trip to a hot spring, known as 'onsen' in Japanese. Onsen waters vary from place to place, and each is said to have its own healing properties such as relieving fatigue or improving blood circulation. In addition, open air onsen let bathers relax in comfort while taking in the local scenery.
Both Hakone and Kusatsu near Tokyo have developed into popular tourist destinations thanks to their luxurious array of hot springs, yet it would be wrong to overlook the onsen on some of Japan's remotest islands as they offer unrivaled views of some of the country's most dynamic scenery.
Finally, a word of warning. As open air onsen tend to be mixed-gender baths, it is recommended visitors bring their own swimwear, so they can retain their privacy and bathe comfortably.
Yunohama Roten Onsen, Niijima (Tokyo)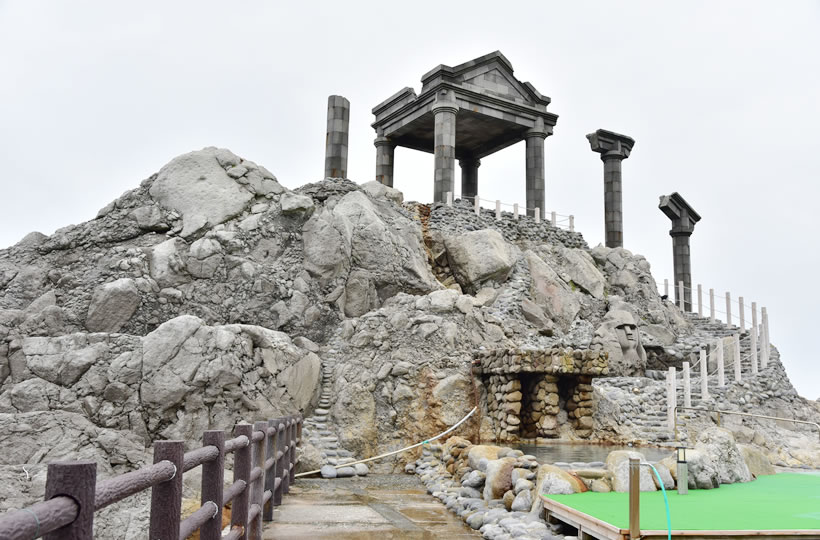 Niijima, can be reached in just over two hours on the high-speed boat from Tokyo. One of the Izu Islands, it is a popular resort, rich in nature, with beautiful sandy beaches. On Niijima you'll find a 24-hour open-air onsen called Yunohama Roten Onsen. A 5-minute walk from Niijima Port, just look out for a stone exterior with an ancient Greek temple motif. From the spacious bathtub unwind as the sea spreads out in front of you. Why not even stay a while to enjoy the sunset and starry night sky?
Swimwear is a must at this mixed-gender onsen, although separate changing rooms are provided. Footbaths and shower rooms are also available. It all makes for a convenient stop off to refresh after a swim in the nearby ocean.
Additionally, indoor hot springs can also be found on the island including Mamashita Onsen and Niijima-mura Onsen Lodge.
Ashitsuki Onsen, Shikinejima (Tokyo)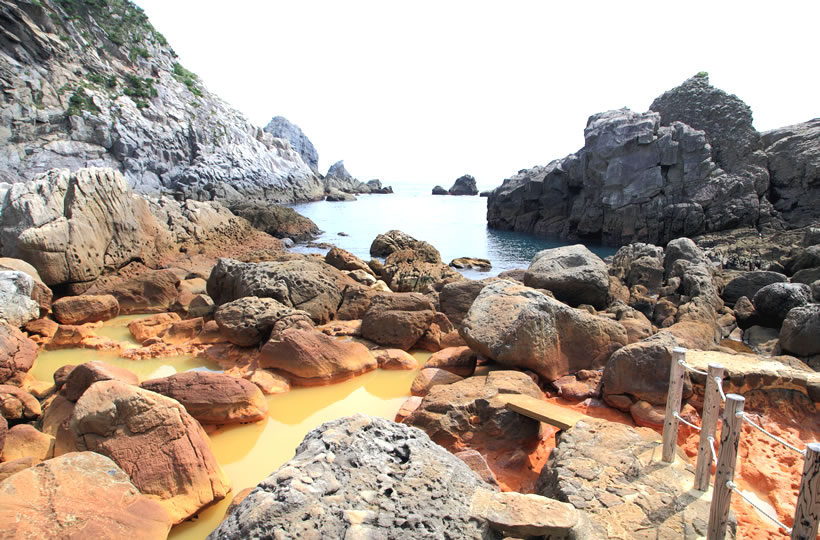 The small island of Shikenjima is about 160 km away from central Tokyo. As well as excellent opportunities for swimming and cycling, many visitors are drawn to the island in order to take a bath in the local onsen. There are three open-air onsen on the island, all of which can be used free of charge, 24 hours a day.
One of them, Ashitsuki Onsen, is characterized by its crystal clear hot water. Bathers are recommended to get into the bath about an hour before and after low tide, for the optimum bathing experience. The onsen is known by the locals as a 'surgical hot spring' as it is said to be effective at curing wounds and skin problems.
Ashitsuki Onsen is a 25-minute walk from Nobushi Port, the island's transportation hub, and it is fully equipped with changing rooms and shower facilities. Wearing a swimsuit is mandatory here. Also on the island, you can visit Jinata Onsen where you can enjoy some superb natural views, or Matsugashita-miyabi-yu, which is surrounded by pine trees, along with Ikoi-no-ie, a popular indoor bath.
Hama-no-yu, Izu Oshima (Tokyo)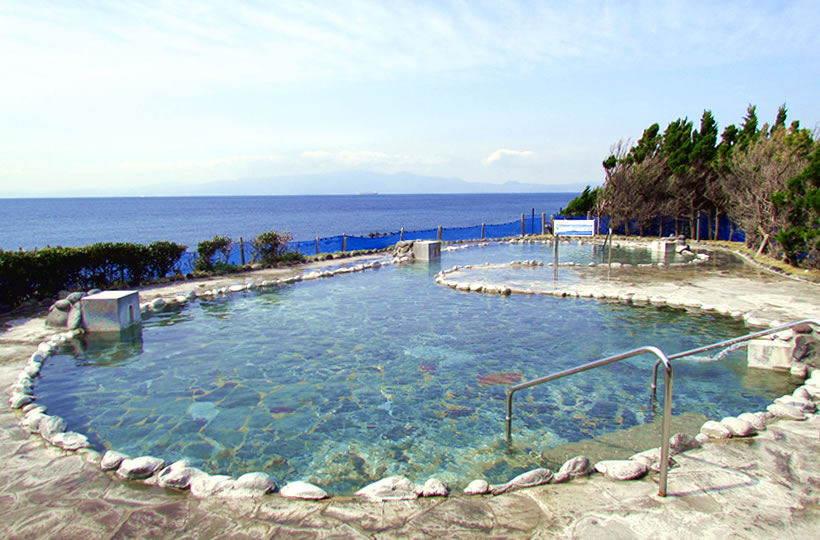 Izu Oshima sits about 120 km south of Tokyo and is the largest of the Izu Islands. Blessed with a warm climate and lush natural environment, its unique volcanic landscapes are a real draw. There are plenty of onsen around the island, including public baths, or those offering accommodation for the evening.
Take a 4-minute walk from Motomachi Port and you will find Hama-no-yu, an open-air public onsen overlooking the sea next to the Izu Peninsula. You'll also be able to see Mt. Mihara when bathing here. A popular spot to take a dip, many visitors like to do so as evening approaches in order to enjoy the sun setting over the ocean.
Bathing is allowed between 13:00 (11:00 in summer) and 19:00, but keep an eye out for closures or reduced opening hours depending on the weather. There is a 300 yen bathing fee for adults. Showers are available in the changing rooms, while swimwear, which is compulsory, can be rented for free if needed.
Iojima Higashi Onsen, Iojima (Kagoshima)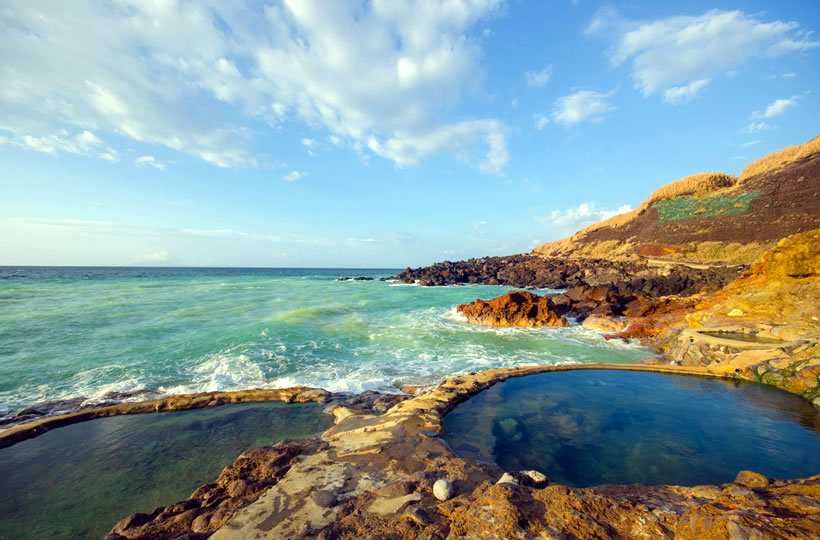 Iojima is situated in the northern part of the Satsuma Islands which belong to Kagoshima Prefecture. Only 11.65 square kilometers in size, it is a volcanic island that can be accessed via ferry or airplane from Kagoshima. Prior planning of your journey is recommended as transport operations to the island tend to be sporadic.
Iojima Higashi Onsen, which faces the sea on the eastern side of the island, is an acidic hot spring characterized by dark green water. Surrounded by cliffs, access is somewhat difficult but well worth the effort due to the fantastic views from the baths.
The onsen is a 10-minute drive from Iojima Port, and it is accessible free of charge 24 hours a day. The baths are mixed-gender but swimwear is not required. Please note there are no changing rooms or shower facilities available.
Hirauchi Kaichu Onsen, Yakushima (Kagoshima)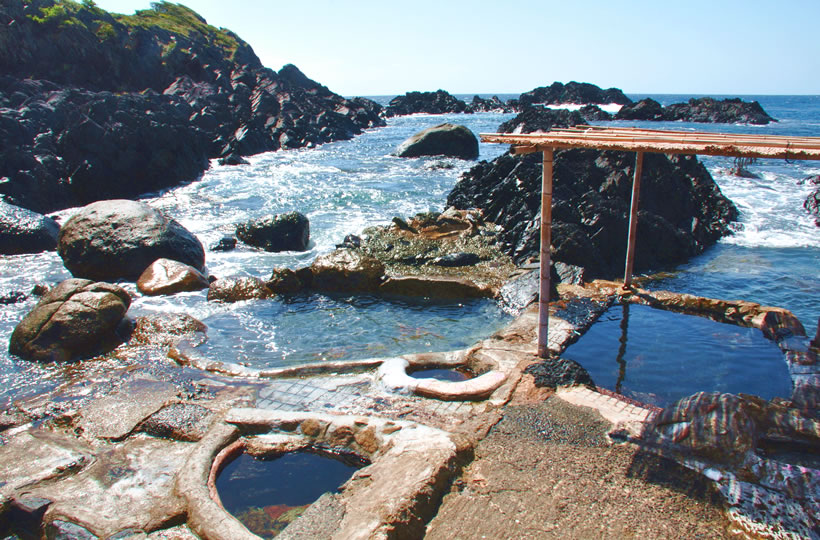 Yakushima, a World Heritage Site, is easily accessed by air from Osaka, Kagoshima, and Fukuoka, or by sea if you take the ferry or high-speed boat from mainland Kagoshima.
Although Yakushima is not a volcanic island there are still many hot springs dotted around. Bathing options include public baths, along with daytime drop-in facilities at local hotels and inns. Buses and taxis are also available making it easy to get around compared to some of Japan's other remote islands.
Hirauchi Kaichu Onsen is a 30-minute drive from Yakushima Airport or a 10-minute walk from the nearest bus stop. The baths here are only accessible twice a day for about two hours before and after low tide. This hot spring is unusual as the water spouts up out of the sea. A natural pool, sculpted out of the rocky coastline acts as the bathtub, becoming fully submerged at high tide.
Although it is a mixed gender bath swimwear is prohibited. There are no changing rooms or showers available making it a little daunting for first time onsen visitors. A 200 yen payment is required if you want to use this hot spring.